Why You Should Move Your Business's Bookkeeping To An Outsourced Company
Financial headaches, non-compliance, and bookkeeping legal ramifications giving you cause for concern?
We get it. Oftentimes, bookkeeping is overlooked in importance for small businesses. It's just one of those things that gets shunted down the priority list only to rear its ugly head at the most inopportune time.
Part of the problem is that to some companies, it's perfectly fine for one individual to complete important bookkeeping tasks such as filing your Government HST, processing your payroll, preparing financial statements, AND also be responsible for other odd jobs around the office (for example, answering the phone and cleaning) – jobs completely unrelated to bookkeeping.
At eGO Bookkeeping, we just can't agree with that!
Bookkeeping may seem like a vague term consisting of simple tasks that must be performed periodically. However, that is simply not the case. Bookkeeping is a specialized skill that requires training and experience to function accurately and efficiently.
While it may be tempting to delegate bookkeeping tasks to someone who is a jack of all trades—it's not a wise decision. Bookkeeping requires a deep understanding of accounting principles, tax laws, and financial software.
That is why it may be time to outsource your financial records to a remote bookkeeping company if you struggle to keep up-to-date with the necessary tasks associated with a streamlined, well-functioning bookkeeping system. Even if your current system is a winding maze of rabbit holes with no apparent order, a professional outsourced bookkeeping service can change that.
While transitioning your business's bookkeeping to a remote company like eGO can seem daunting, with careful planning and preparation, there's no reason why you can't go the outsourcing route.
It's really not that difficult to make the change!
Don't believe us? Well, in this blog, we will look at some of the tasks associated with bookkeeping and how moving them to an online company can save you time, money, and a lot of stress.
What Bookkeeping Tasks Can Be Done Remotely?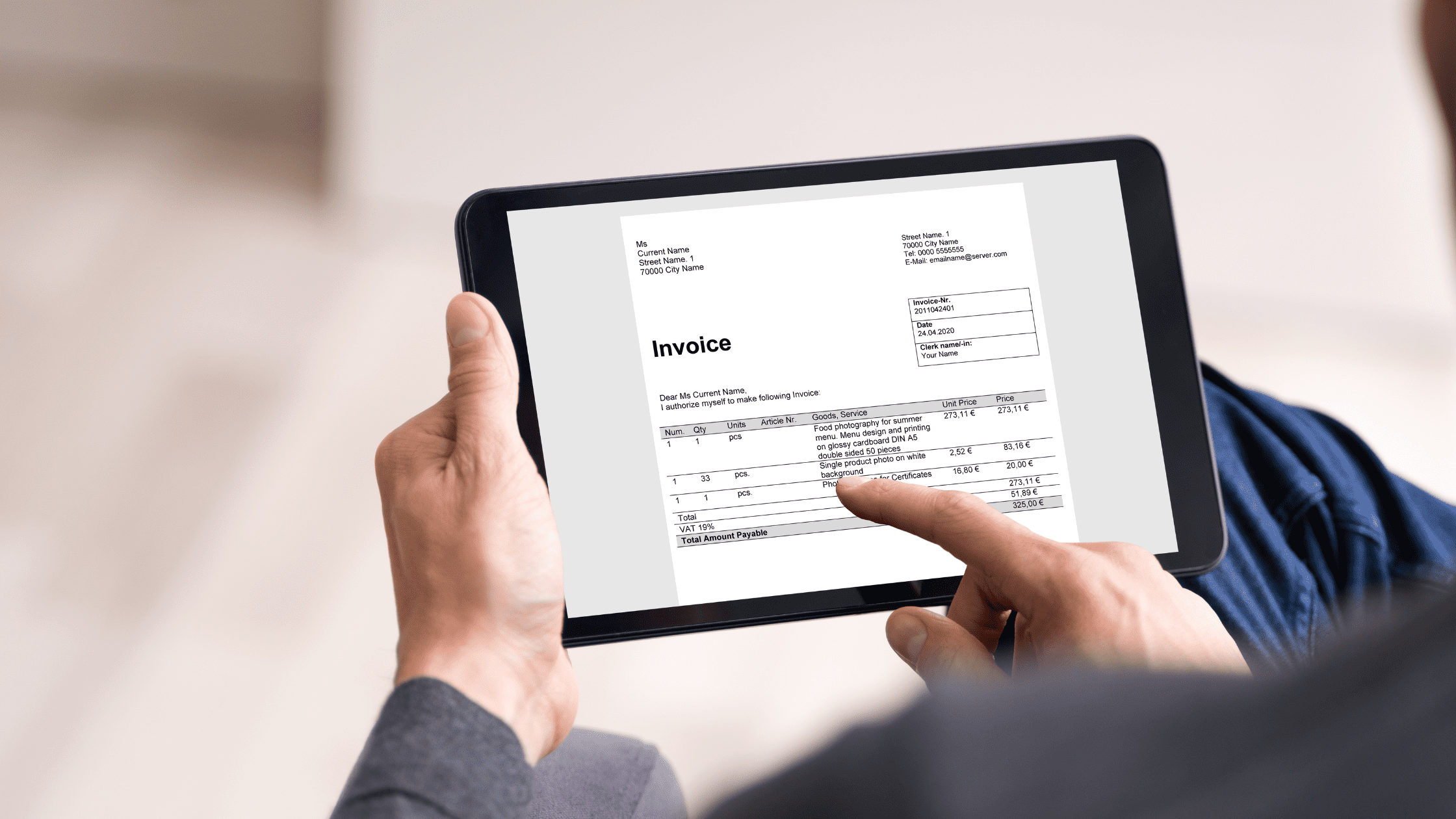 All true "bookkeeping" work can be done very efficiently, remotely, provided the right processes are set in place.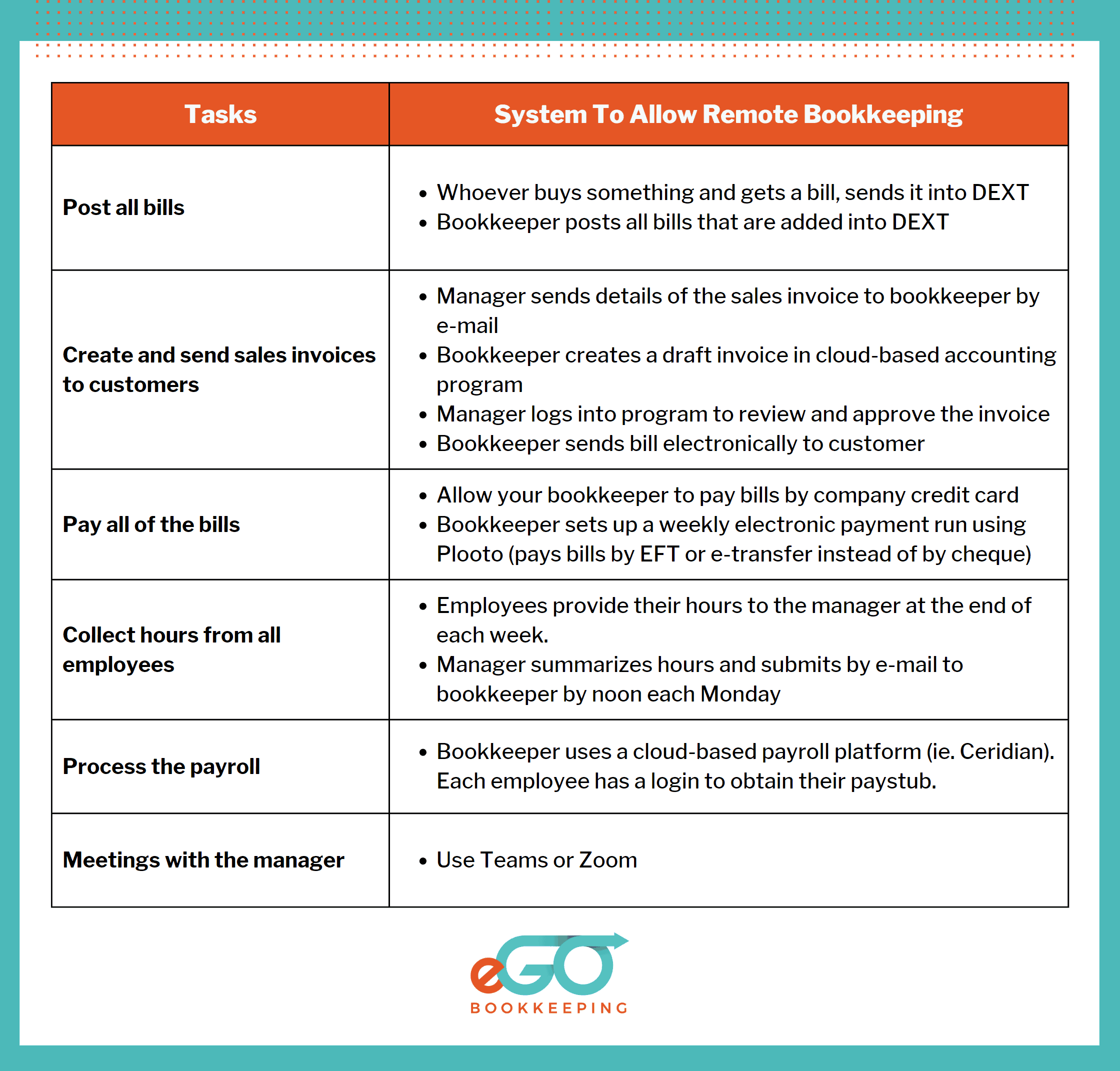 At eGO Bookeeping, we work directly with owners or office administrators/managers to collect all the financial information (source documents) we need. We create the most efficient workflow possible for them by leveraging cloud-based applications such as Dext and Plooto, so that collecting financial information or processing payables can all be done without us needing to step into their office!
Outsourced Bookkeeping Makes Bank Reconciliation Easy
Using an outsourced bookkeeping service for bank reconciliations can have several advantages compared to doing it in-house. For one, outsourced services such as eGO Bookkeeping employs bookkeepers that are experienced with bank and credit card reconciliations. These professionals have the expertise to accurately reconcile your accounts, ensuring that all transactions are recorded accurately in your financial records.
Furthermore, outsourcing bookkeeping for bank reconciliation is convenient. Because of cloud accounting programs, you can access your financial records and bank reconciliations from anywhere, at any time. This can be especially helpful if you're an entrepreneur who's frequently on the go, working from multiple locations.
At eGO Bookkeeping, we perform bank reconciliations regularly—not once in a blue moon. With up-to-date and accurate financial records, your company will avoid late fees, overdraft fees, and other penalties resulting from inaccurate or late payments.
Remote Bookkeeping Ensures Accurate Government Filings
Outsourced bookkeeping services are experienced in government filings and have the skills to ensure your filings are accurate and compliant with current regulations. It is not uncommon for business owners to be unfamiliar with the specific requirements of the forms they need to file.
Additionally, outsourcing your government filings can help you avoid errors. Preparing government forms can be complicated, and mistakes can be costly. Avoid penalties arising from noncompliance and missed deadlines by leaving your essential bookkeeping to the professionals.
Outsourcing Payroll Compliance Saves Time And Money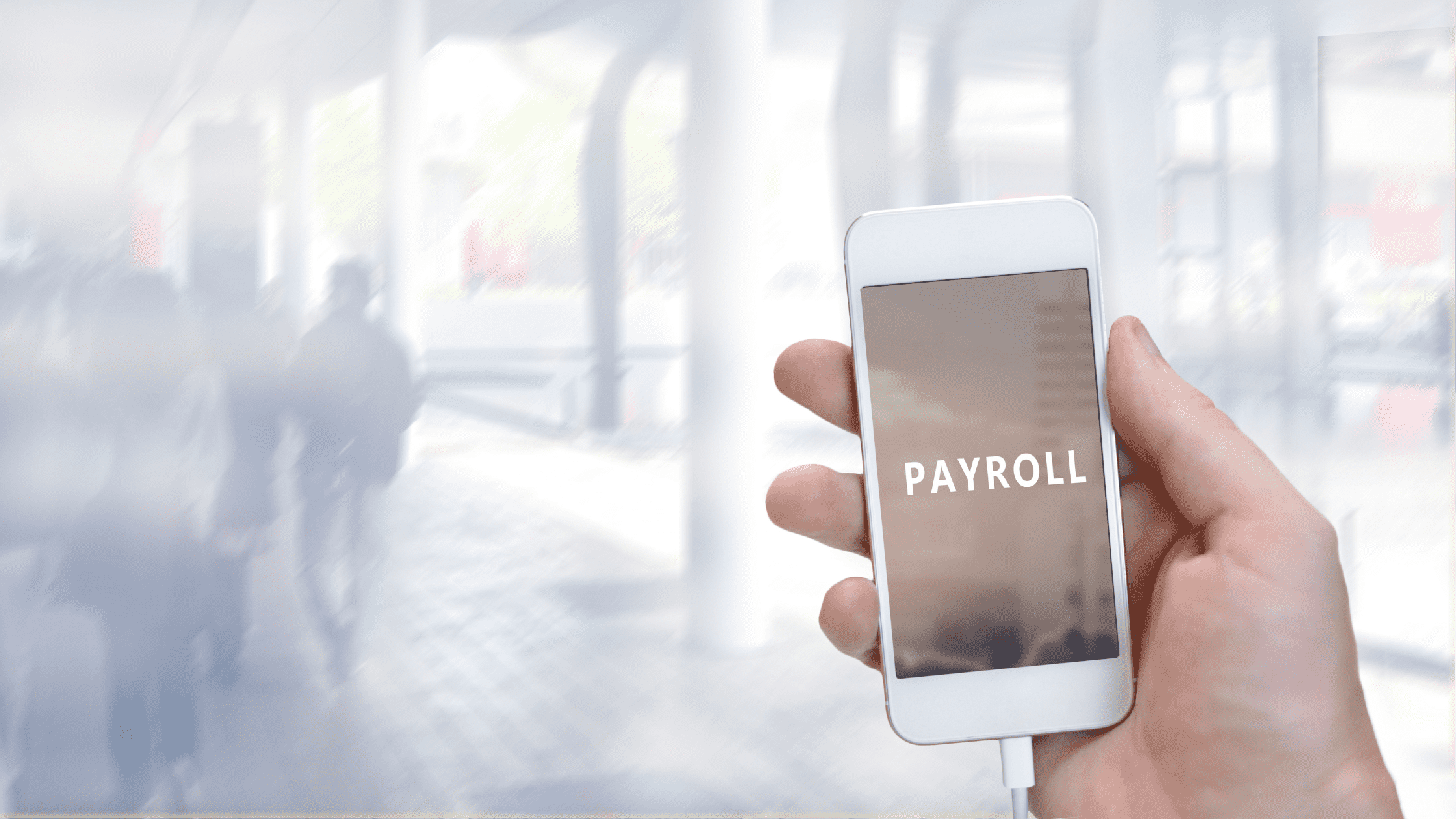 In-house specialists for payroll compliance are expensive, especially for small businesses that may not have the budget for a full-time employee. Outsourcing these tasks to a remote company can be more cost-effective, as you can pay for only the services you need, and you won't have to worry about the additional expenses of having someone on-site.
Of course, when time is of the essence, dealing with payroll can also be a huge pain, particularly for small business owners who have other obligations to fulfill. If you outsource payroll to a remote company, you can save time and concentrate on your primary business operations.
At eGO, we have a Payroll Compliance Practitioner on staff that oversees all of the payroll for our customers. We only use the latest technology to manage payroll and aim to streamline the process to reduce the risk of errors. This allows you to focus on the growth-orientated parts of your business.
No More Uncertainty With WSIB Injury Forms
The difficulties associated with filing WSIB injury forms can make the process challenging and daunting for many employers. It is imperative that you provide detailed information about the injured worker and the nature of the injury and that the forms are submitted on time.
Because of the significant amount of paperwork and administrative knowledge required, wouldn't it be easier to offload these tasks to someone who knew exactly what they were doing? At eGO, we have a team of dedicated professionals who have experience filing proper WSIB forms, making outsourcing to us an attractive option.
Remote Bookkeepers Provide Clean Data Files To Accountants For The Corporate Year-End
The end of any financial year is a stressful time—take it from us! However, all the effort you've been expending to get your financial affairs in order can be re-directed by employing a reputable remote bookkeeping service.
By providing consistency and standardized systems and processes throughout the fiscal year, your outsourced bookkeeping service is able to record all of your transactions accurately. This makes it easier for your accountant to review and prepare year-end financial statements.
Outsourced Bookkeeping Services Make Financial-Backed Business Decisions Easier
When you are armed with an accurate analysis and interpretation of your financial data, you can make more informed business decisions regarding the future of your business. Professional outsourced bookkeepers ensure that your financial statements make sense. Accurate reports will identify trends and patterns that can inform better decision-making.
What types of decisions? Well, suppose you find forecasting and budgeting an issue. In that case, an outsourced bookkeeper can set up your financial records with budgeted amounts, then track your spendings and let you know when you have reached your budget. In addition, when your records are kept up-to-date weekly or daily, monitoring cash flow is much easier. An experienced outsourced bookkeeper can alert you when there are cash shortfalls so you can take immediate action.
Ready To Make The Transition?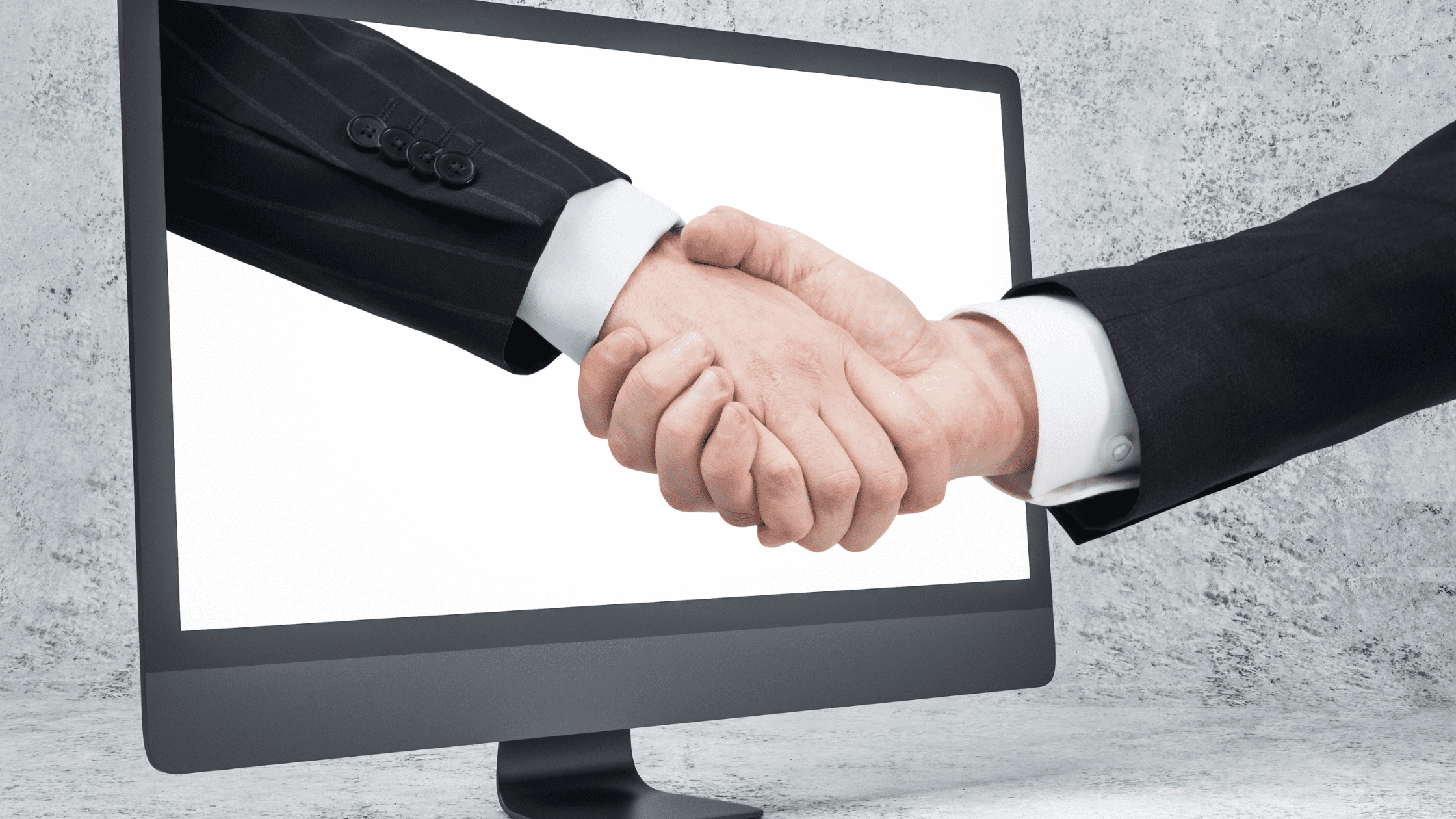 Transitioning your bookkeeping from an in-house employee to a remote company doesn't have to be overwhelming! It's all about taking small, manageable steps. We've identified three key areas that you should focus on:
1. Make a list of the "bookkeeping tasks" you need taking care of
Do some of the tasks on your list fit the bookkeeping role like bank reconciliation? Or do they fit an office administration position better?
2. Reach out to a bookkeeping company and bring your list of tasks!
Ask questions so you can have an idea if their services fit your needs:
What can they do for you?
How much it is going to cost you for the work?
What can you expect from them?
What program will they be working with?
3. Weigh the pros and cons of each solution (in-house vs off-site).
Do you need your bookkeeper to be at your office to complete all the work? Maybe it is time to re-think that!
Summing It Up
At eGO Bookkeeping, we deal with the question of why you should outsource bookkeeping services on a daily basis. Our answer is always the same:
When done by a professional who doesn't cut corners and has no other pressing tasks, outsourced bookkeeping is efficient, financially beneficial, less time-consuming, and reduces the risk of errors. No matter what bookkeeping-related tasks your specific industry requires, at eGO, We get to know your business and find ways to save you money.
Book a call with us if you want to move forward into the future by embracing cloud-based technology for your bookkeeping and accounting needs!